The C 235 battery operated Scrubber drier is ideal for small sized floors where there is lots of free space or you have to navigate around tables, desks, machinery or beds. It is the ideal cleaning solution whether for a daily clean, or a planned scheduled and aggressive deep clean.
The unique handle adjustment makes it suitable for any user and offers easy upright storage. All functions are controlled from the operator handle with an in built safety grip for easy maneuverability.
Ideal to be used for small washrooms, aisle spaces in supermarkets, offices, shops, pantries, kitchens, restaurants, hotel guest rooms, and homes.
The C 235 is an ideal choice when you want clean, dry and safer floors in no time at all!!!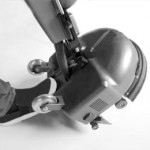 Locking System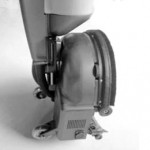 Easy Upright Storage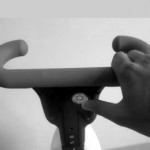 On and Off Power Button

| Model No | Working Width | Squeegee Width | Brush motor | Brush Pressure | Vacuum Motor | Vacuum Suction |
| --- | --- | --- | --- | --- | --- | --- |
| C 235 | 350 mm | 375 mm | 80 W | 13 Kgs | 100 W | 12 mbar |
| Brush Speed | Tank Capacity | Noise Level | Battery | Weight of Battery | Weight | Size |
| --- | --- | --- | --- | --- | --- | --- |
| 180 RPM | 2 + 3.5 Ltrs | 65 Dba |  5*2 AH-36 V | 1.06 Kg | 15.5 Kgs | 1115 x 370 x 360 MM |