Technologically advanced industrial wet & dry vacuum systems that have been proven and tested across the world.
Robust construction with a virtually indestructible stainless steel body and low-noise, cooled turbine motors ensure long life. The double motor version offers high suction power and durability. The vacuum motors are designed to ensure consistent performance and life even under extensive usage. The accessories are designed to offer the best cleaning results with little or no exhaustion to the operator.
Although twice the capacity we have added a folding handle design allowing easy movement when in use whilst also allowing compact storage.
The accessory kit provides tools for both wet and dry operations with stainless steel tube sets as standard.
Comprehensive range of multipurpose accessories for daily wet and dry cleaning depending upon the type of application.
ADVANTAGES: Durable flexi-hose, washable and reusable filter, and a motor that can run without breaks over considerably longer periods.
Additional accessories available on request.
All Pictures shown are for Illustration purpose only. Standard Accessories may vary.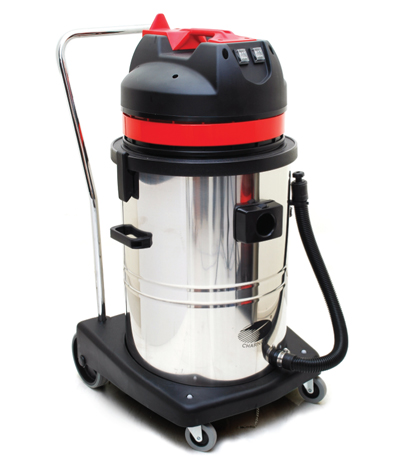 Double Motor Version

Accessories
Model No
Power
No. of
Motors
Volts
H20 for
Lift (mm)
Air flow
(ltrs/sec)
Capacity
Weight
Size
C 260
2000 W
2
220 – 240 / 50Hz
2200
106
60L
26 Kgs
990 x 630 x 565 mm