The professional WVD900-2 embodies in a single machine 15 years of experience in supplying the commercial market from one corner of the globe to the other.
The standard 900 series in design, construction and performance is simply something that must be experienced to be believed. The full Structofoam construction alone sets it apart from all the others, but couple this to the unique multipurpose tipper system for emptying, and you have a truly simple machine that could be used anywhere by anybody and emptied quickly and easily, be it in floor drain or WC.
The power and performance to the full Twinflo specification are exceptional and there is a choice of one or two-motored models, both of which include the Nucable replaceable cable system as standard.
The 38mm (11/2″) accessory kit compliments the machine in everyway with long hoses, stainless steel tube sets and both wet and dry Structofoam 400mm (16″) floor nozzles, everything necessary is supplied for both wet and dry operation.
All Pictures shown are for Illustration purpose only. Standard Accessories may vary.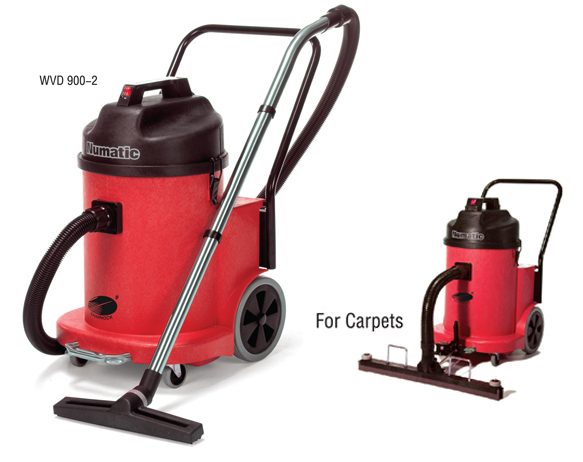 Safety Lock



Wet Floor Tool



Large Transit Wheel



Tipping Facility


Standard Accessories
| Model No | Motor | Power | Airflow | Suction | Dry | Wet | Range | Weight | Size |
| --- | --- | --- | --- | --- | --- | --- | --- | --- | --- |
| WV 900-2 | 12400W | 230V Ac 50/60Hz | 80 L/sec | 2500mm | 40L | 32L | 26.8m | 25 Kgs | 800 x 490 x 880mm |
| Model No | Power | Motor | Airflow | Suction | Dry | Wet | Range | Weight | Size |
| --- | --- | --- | --- | --- | --- | --- | --- | --- | --- |
| WV 900-2 | 230V Ac 50/60Hz | 2400 W | 80 L/sec | 2500 mm | 40 L | 32 L | 26.8 m | 25.0 Kgs | 800 x 490 x 880 mm |