Technologically advanced industrial wet & dry vacuum systems that have been proven and tested across the world.
Robust construction with a virtually indestructible stainless steel body and low-noise, cooled turbine motors ensure long life. The range, with 1, 2 or 3 motors, offers high suction power and durability. The vacuum motors are designed to ensure consistent performance and life even under extensive usage. The accessories are designed to offer best cleaning results with little or no exhaustion to the operator.
Comprehensive range of multipurpose accessories for daily wet and dry cleaning, depending upon the type of application.
ADVANTAGES: Durable flexi-hose, washable and reusable filter, and a motor that can run without breaks over considerably longer periods.
Additional accessories available on request.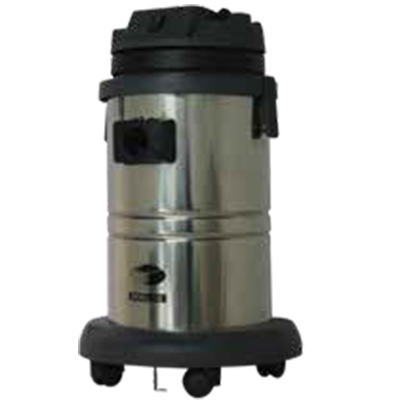 1-Motor Version
Standard Accessories
| Model No | Power | No.of Motors | Volts | H20 for Lift (mm) | Air flow (ltrs/sec) | Capacity | Weight | Size |
| --- | --- | --- | --- | --- | --- | --- | --- | --- |
| CE 30 | 1000 W | 1 | 220 – 240 / 50Hz | 2000 | 53 | 30 L | 13.4 Kgs | 440x440x760 mm |