The NuBag system is fully complimentary to the NuKeeper range, providing a practical selection of mobile laundry trolleys with a choice of capacity and bag sizes:-
200-litre, 100-litre and SBA 100 – 100-litre end extension kit.
All bag sizes incorporate our drag handles and top closure system and are easily removed from the trolley as necessary.
NuBag units comprise a fundamental collection and separation system which also allows easy transportation to laundry
facilities be they inside or out.
All-Terrain Castors – 200mm heavy duty super quiet castors equally suitable for inside or outside use.
Structofoam Construction – The heavy duty Structofoam base is strong and resistant to scratches and dents.
Non-marking Rotating Buffers – Protects walls and doors from bumps and scrapes.
Integrated Laundry Bag Closure System – Incorporating drag handles and our top closure system.
300-Litre Linen Storage – One 200L and one 100L washable linen laundry bags which are ideal for laundry storage.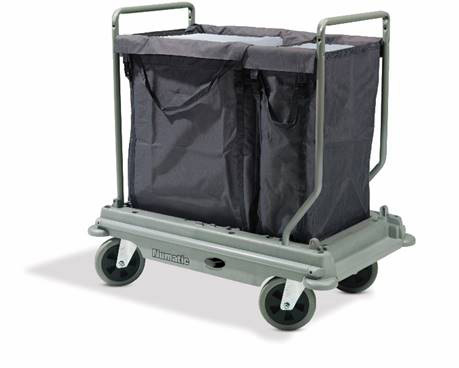 200mm AT Castors
| Model No. | Description | Size |
| --- | --- | --- |
| NB 3002 | Laundry trolley | 1090 x 580 x 1055 mm |