This great new invention is perfect for cleaning almost everything. Home, car, office, janitorial, boat, removes wax without scratching, absorbs water like a leather chamois, pickup dust like magnet.
The Double sided Micro- fibre cloth are over 100 times thinner than a human hair yet incredibly durable. The Micro fibres are so small that they clean away grime other fibres simply can't detect.
A single Streak Free micro fibre cloth has millions of tiny 'scoops' that pull dirt, dust, oil and grease up inside the cloth and hold it in the millions of open spaces until you wash the cloth.
The results are clean, streak free shining surfaces. Close to 94% bacteria eliminated, thus more hygienic. Eliminates bad odour using water helps to emulsify dirt and oil making it easier for the micro fibre cloth to pick it up.
Made with the finest blend of 80% polyester & 20% Polyamide.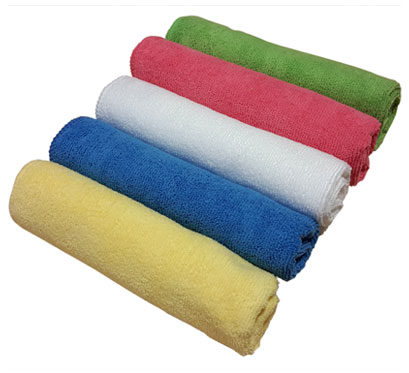 | Model No. | Size |
| --- | --- |
| MFC-STD | 400 x 400 mm |