The ETB4045 has a number of cost saving variations introduced into the specification without loss of performance or operating life. The LoLine chassis is manufactured in nutex epoxy powder coated steel in place of stainless steel; the wet pick up floor tool is Structofoam rather than aluminium.
The machine is so simple to use, simple to fill, simple to empty, simple to move, simple to charge, simple to transport and simple to service… and it's all this simplicity that produces superb cost effective results.
The machine is bristling with unique features but to these have been added our new, easily adjustable brush pressure adjustment system that allows power head performance to be varied to suit different floor conditions and requirements.
Advantages
Nutex epoxy powder coated chassis
Deck tilt system making brush changes quick and simple
40 litre clean and dirty water heavy duty polyform tanks
TwinFlo vacuum motor providing the exceptional wet pick up
Heavy duty brush motor
Fully adjustable operator handle
Soft touch Nutronic controls
Flexifill, extending and flexible filling hose
Oil filled, low load, planetary gearbox gives maximum power transmission direct to the floor.
Full range of brush and pad drive systems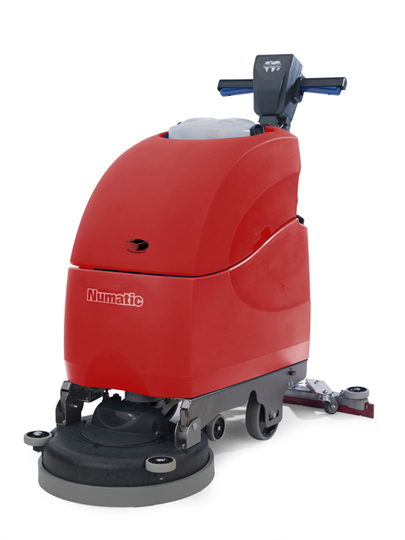 Folding handle

Simple to Use
Operator Handle

Wet Pick-Up Squeegy

Planetary Gear Box

Easy Tank-Filling Access

Model No
Brush
Motor
Vac
Motor
Brush
Pad Size
Capacity
Time
Power
Speed
Weight
Size
ETB 4045
24 V
400 W
24V
400W
450 mm
400 mm
40 + 40 L
2 Hrs
2 x 12V
(24v 60Ah)
100 rpm
103 Kgs
470 x 1030
x 1160 mm