The TT 4055 is based on a full stainless steel chassis and packed with truly meaningful, innovative features that have been developed by years of experience. The combination of stainless steel,Structofoam and polyform tanks ensures durability.
The superstructure comprises 40 litre clean and dirty water heavy duty polyform tanks designed to provide a truly robust structure. The motor and power transmission is well and truly oversized and complimented in every way by our high performance Twinflo' vacuum collection system and full floating polyurethane semi-parabolic floor nozzle.
Full 40 liter capacity with a heavy duty 550mm scrubbing head which will leave you with clean and dry floors even in the most arduous of applications.
*The patented folding power head systems allows for both easy storage, brush changing and movement when not in use.
Advantages
Full stainless steel chassis
Deck tilt system making brush changes quick and simple
40 litre clean and dirty water heavy duty polyform tanks
TwinFlo vacuum motor providing the exceptional wet pick up
Heavy duty brush motor
Fully adjustable operator handle
Soft touch Nutronic controls
Flexifill, extending and flexible filling hose
Oil filled, low load, planetary gearbox gives maximum power transmission direct to the floor.
Full range of brush and pad drive systems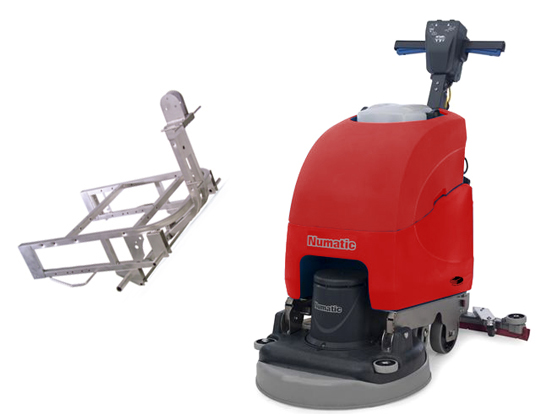 Simple To Use
Operator Handle

Easy Tank-Filling
Access

Folding Handle

Brush in Transit Mode

Structo foam squeeze

Model No
Brush
Motor
Vac
Motor
Power
Brush
Pad Size
Capacity
Speed
Range
Weight
Size
TT 4055
1500W
1200W
220-240V
50Hz
550mm
500 mm
40 + 40 L
150 rpm
42 m
57 Kgs
1100 x 1110
x 944 mm