The TT6650S cable machine is a genuine workhorse providing a truly cost effective answer to big area floor maintenance.
First and foremost the user will find the TT6650S as easy to use as our smaller machines with the control and operation systems to exactly the same specification, it handles like a dream.
Big capacity polyform tanks provide a full 60-litre capacity to match the exceptionally stable 65cm single brush scrubbing head, complimented by an over sized fully floating 970mm polyurethane, semi-parabolic collection nozzle.
The motor and power transmission design is one of the best ; well and truly time tested over the years and the vacuum motor system is nothing less than our superb Twin flo' bypass unit. You really do end up with clean, dry floors.
The whole machine is constructed on a full stainless steel chassis, simply nothing to rust, and this in turn, is running on heavy duty non-marking polyurethane wheels.
If it's big areas, big power and big performance that is needed – the TT-6650S will not disappoint you!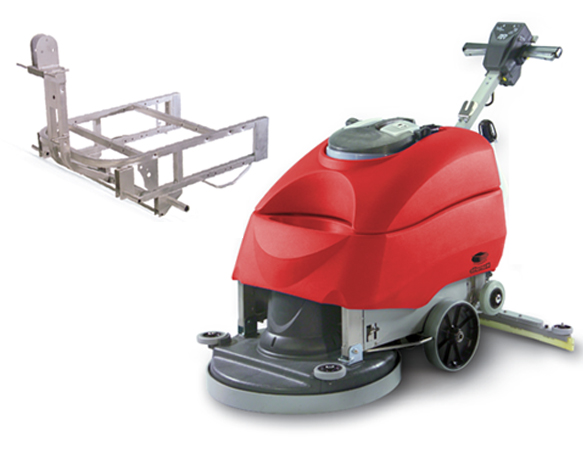 Simple To Use
Operator Handle

Filter System

Easy Tank-Filling
Access

Hi-Lo Switch

Wet Pick-Up Squeegy

Model No
Brush Motor
Vac Motor
Power
Working
Width
Speed
Capacity
Range
Weight
Size
TT 6650S
1500W
1200W
230V AC 50Hz
650mm
50Hz = 150 rpm
60Hz = 180 rpm
60+
60L
42m
87.6 Kgs
1230 x 1260
x 970mm