Features:
4 poles electrical motor (1450 RPM) with thermal protection and water cooling.
Three ceramic coated pistons.
Built-in by-pass valve nickel plating brass linear pump head with high temperature water seals and bushing.
Integrated elastic joint, for best pump coupling.
Low voltage and delayed Total Stop.
Suction and delivery S. S. valves.
Vertical burner with high thermal efficiency steel coil.
Temperature regulation gauge with high sensitive stainless steel sensor.
Detergent built-in tank (3 lt).
Auxiliary motor for burner air cooling and mechanical two ways fuel pump.
Hose reel (optional).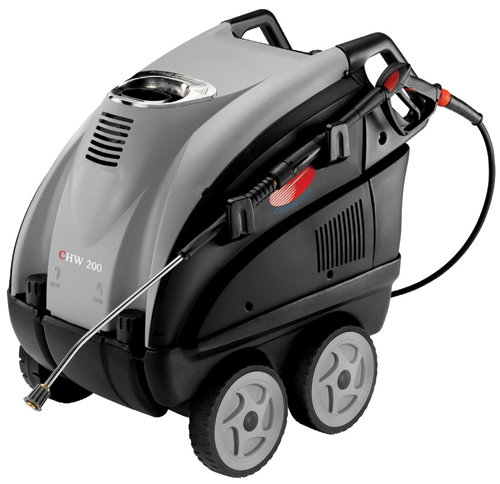 Standard Accessories

Model No
Power
Motor Power
RPM
Pressure
Hose Length
Water
Delivery Rate
Max. Water Inlet/Outlet Temp
Power Cable
Weight
Size
CHW 200
400 V – 50 HZ
7300 W
1450
200 bar
10 mtrs
900 l/h
40/140ºC
5 mtrs
129 Kgs
940 x 650 x 900 mm