Charnock presents the CRSD 3460, fully automated robotic scrubber Drier that is designed to handle both commercial and industrial cleaning of floor spaces with ease & efficiency. The machine makes the cleaning task more efficient, time saving, manpower saving and safe.
Ideal to be used in pharmaceutical spaces, manufacturing plants, warehouses, shopping complexes and airports to ensure highest standards of hygiene and cleanliness.
Advantages
High Efficiency
Five in one function of scrubbing, drying, sweeping, vacuuming and disinfection.
Double brush machine which results in higher efficiency.
User friendly and easy to operate.
Intelligency
Intelligent mapping and navigation of paths and tasks.
Smart energy saving techniques method by Automatic recharge, sewage recycling.
Help monitors the working state of the robot at any given time.
Safety
3D Obstacle detection, autonomous obstacle avoidance.
360* Anti-collosion strip and anti-fall protection.
Man-machine separation can reduce personal contact and effectively reduce the risk of infection.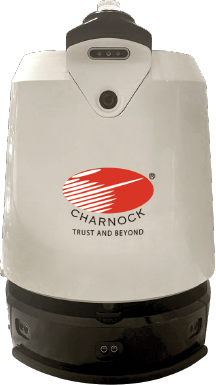 Blinker : Machine at Work

3D Ultrasonic Camera

Intelligent Doll's Eye

Infra Red Camera

| Model No | Movement Mode | Speed | Endurance | Spray Size | Spray Rate | Disinfection Level | Disinfection Water Tank Capacity | Clean Water Tank Capacity | Dirty Water Tank Capacity |
| --- | --- | --- | --- | --- | --- | --- | --- | --- | --- |
| CRSD 3460 | Autonomous Navigation | 0.6 m/s (Adjustable) | Sh(Customizable) | 10 pm | 1.5 L/h | Up to 6-log level | 6.6 L | 30 L | 33 L |
| Brush Width | Brush Disc Diameter Quantity | Battery | Charging Time | Charge | Charge Mode | Power | Noise | Weight | Machine Size (L x W x H) |
| --- | --- | --- | --- | --- | --- | --- | --- | --- | --- |
| 460 mm | 230×2 | Lithium Battery 100AH (customizable) | 4 h | 29.2V 20A | Automatic/manual | 1600 W | 70 db | 115 kg | 750 x 680 x 1150 mm |