When it comes to large areas of floor maintenance or restoration there is no substitute for both size and weight.
The HFT 1530 is a dual speed machine with 150 & 300 rpm respectively. The Hurricane series is now equipped as standard with performance enhancing "A.T.C.", Automatic Torque Control. A unique system that monitors operation and boosts torque, as required, to provide consistent performance under varying load conditions.
The HFT model is fitted with the Hurricane dual motor rated at 1000W/1250W providing optimised power options at the two different operating speeds.
The 'snap-on' 10 kg standard weight can be easily removed and replaced as required to suit various applications.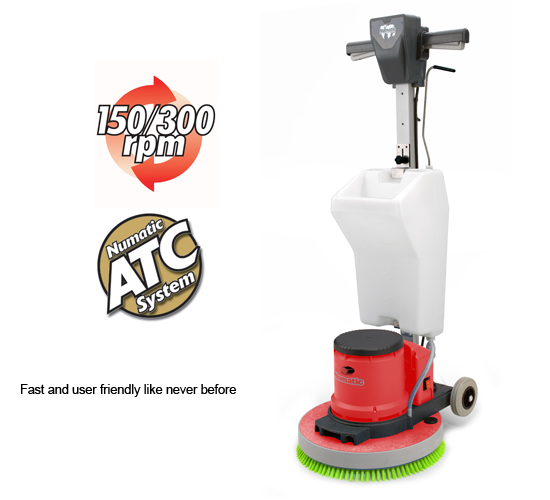 Extra Large Brush

Optional 10Kg Drop
On Weight

Simple to use
Operator Handle

Heavy Duty Gear box

Hi-Lo Switch
Model No
Power
Motor
Pad Size
Brush
Vacuum
Brush Speed
Range
Weight
Size
HFT 1530
230V AC 50Hz
1000W / 1250 W
400mm
450mm
Optional NDT130
150 rpm
300 rpm
32 m
40 kgs
1250 x 580 x 460 mm