Without doubt one of the most useful floorcare mopping accessories for professional use.
The standard cleaning head is manufactured from a fabric specially developed and woven to provide excellent dirt retention characteristics and is able to be washed quickly yet effectively even by hand, and it is also machine washable.
The mop head is easily removed and replaced due to the simple elasticated pocket system-no special fixing.
Simple Practical and Professional … Never Better
The spraymop has a full 40cm (16″) Microfibre mop head with its own integrated 400ml container that is operated by foot or hand in order to apply small amounts of water or cleaning solution to the floor as required in order to maintain the dampness of the mop.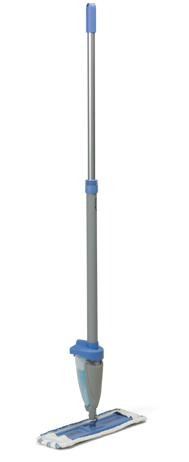 | Model No. | Bottle | Pad | Weight | Size |
| --- | --- | --- | --- | --- |
| SM 40 | 400 ml | 40 cm | 1 Kg | 1440 mm |